Flexible Payday Loans Near Fort Worth, TX
If you are in Texas, need some emergency cash, and have been Googling "flexible payday loans in Fort Worth, TX," you're in the right place – and your search is over. At Mypaydayloan.com, we offer flexible, reasonably-priced payday loans in Fort Worth, TX. Get all the details you need below.
Online Payday Loans Are Better Than "Flexible Payday Loans Near Me" in Fort Worth, TX
If you need cash fast, you shouldn't be searching for "flexible payday loans near me in Fort Worth, TX." Going to a physical loan office can be time-consuming and difficult, particularly if you don't have reliable transportation.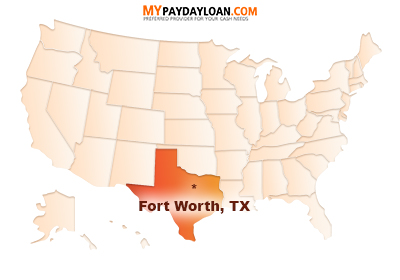 Instead, you should turn to an online payday lender such as Mypaydayloan.com. Getting an online payday loan from us has a number of benefits:
Save time & money – There's no need to travel to a loan office, so you'll save both time and money when getting a loan.
Apply from your own home – As long as you have a computer and an internet connection, it's easy to apply from the comfort of your own home.
No need to deal with a check – We send your loan via direct deposit, so it's easy to get the cash you need right away, and you won't have to pay any check cashing fees.
Renewals & increases available – At Mypaydayloan.com, we offer both loan renewals and increases for qualified borrowers, which helps increase your loan's flexibility.
For these reasons and quite a few more, you should definitely consider choosing online cash advances from Mypaydayloan.com.
How Our Online Payday Loans Work – Understanding The Basics
Never applied for an online payday loan before? Not sure how it works? Here's a quick overview.
Check our requirements – To apply for a loan, you must be 18 years of age and a US citizen, have a checking account, and be employed with a verifiable monthly income. Learn more here.
Apply online – Click here to start our simple online application. You can apply with Mypaydayloan.com in just a few minutes.
Accept your loan approval – We'll contact you after you've been approved so that you can review your loan terms and accept your loan.
Get your cash deposited into your account – If your loan application is approved before 10:50 AM CDT (11:50 EST) it will be deposited into your account by 5:00 PM in your time zone. Loans approved after this time will be deposited on the next business day.
Get a Flexible Payday Loan Online From Mypaydayloan.com Today!
If you're in need of a payday loan near Fort Worth, TX, Mypaydayloan.com is here to help. We offer fast, flexible, and reasonably-priced cash advance and payday loans, so click here to begin your application and get the money you need.