How Can I Get a Cash Advance Online?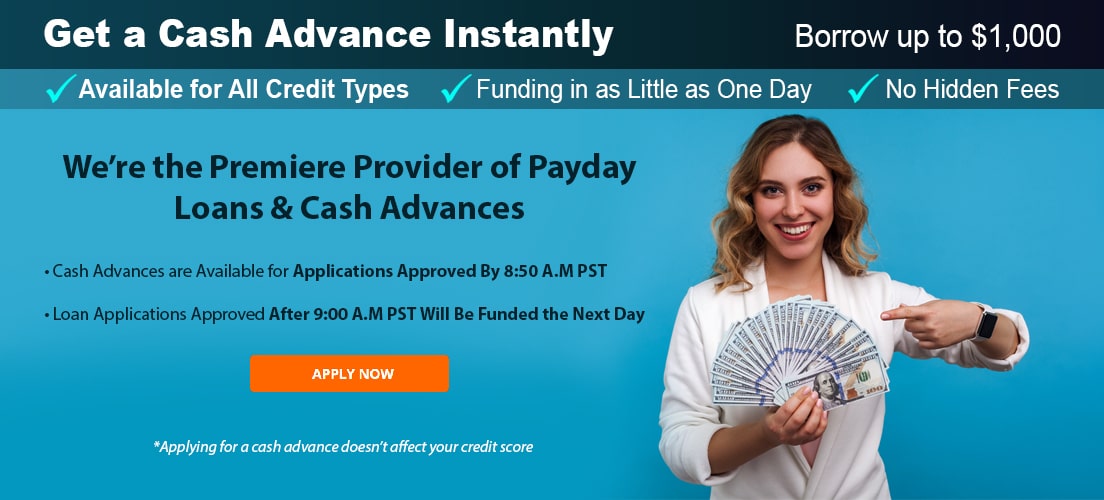 At Mypaydayloan.com, we offer the quickest online cash advances. We can help you get a cash advance instantly. If you meet all our requirements, you will be approved instantly and may receive the deposit the same day that you apply. Learn more below on how to qualify for a Cash Advance.
Do I meet the Requirements for a Cash Advance?
Are you wondering if you qualify for a cash advance online with us?
To qualify, you must:  
Be 18 years old and a legal resident of the United States 

 

Have an active and open checking account (not savings) for us to deposit the funds

 

Demonstrate that you are working and earning a monthly salary 

 
These three requirements are almost certain to get you approved for a payday loan or cash advance online at Mypaydayloan.com.  
How to Apply for Same-Day Deposit? Understanding the Process
How does a cash advance loan process work?
These are the steps to follow to receive your cash the same day that you apply.
1. Apply Online by 12 PM EST
Click here

for the application and to get started with your payday loan application. The application process is fast and simple and takes just a few minutes. To receive same-day funding, your application must be approved by 12 PM EST. 

 
2. Get Approved and Accept your Loan
If you are eligible, our automated system will usually approve you. You'll be sent a contract that you'll need to confirm and accept in order to get access to your cash. 

 
3. Cash will be Deposited to your Account by 5 PM
Once you have accepted the loan, the cash should be in your account by 5 PM in your local time zone. To ensure you have access to your cash quickly, we use ACH direct deposits.

 
Note that if you apply and are approved after 12:00 PM, we won't be able to send your cash on the same day. You will have to wait until the next available business day to receive your money, so make sure you apply early if you need cash very urgently.
Get your Cash Advance Online at MyPayDayLoan.com – Apply Today!
Mypaydayloan.com offers cash advances quickly to customers in the United States. We can help you get emergency funds right away. So, don't wait. You can apply now or feel free to contact us online with any questions.