Steps to Get Fast Payday Loans in San Diego, CA


Need payday loans in San Diego? Not sure what steps you'll need to take to get cash and cover your emergency expenses? In this guide from Mypaydayloan.com, we'll discuss the steps you need to take to get a payday loan in San Diego, CA with our online services. Let's get started.
1. Check Our Loan Requirements
First, you'll need to make sure that you meet our requirements for a payday loan in San Diego, CA. Our requirements are quite simple. You will need:
Proof that you are at least 18 years old and a US citizen
Proof that you are employed and/or have a verifiable monthly income
An open and active checking account, into which your cash can be deposited
If you meet these three requirements, you're likely eligible for a payday loan in San Diego, CA from Mypaydayloan.com. Apply now and get the cash you need.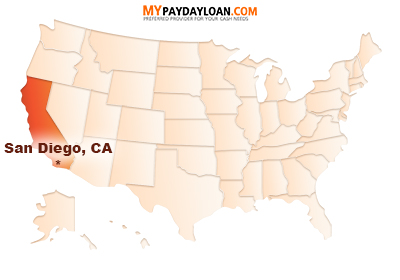 2. Fill Out an Online Application
Our online application is simple, quick, and easy to understand. Click here to get started, and you can finish it in just a few minutes. If you ever have any trouble filling it out or understanding our requirements, feel free to contact our team!
3. Get Approved & Accept Your Loan Terms
Once you apply, we'll process your loan and approve you. This typically takes just a few minutes, thanks to our automated loan review system. Once we've processed your application, we'll contact you with an approval notification. You will review your loan terms and then sign for your loan.
4. Get A Cash Deposit to Your Bank Account
Once you've signed up for your loan, we will begin the process of depositing your funds. If you're approved before 11:50 AM Eastern time, we can deposit your cash by the end of the business day in your time zone, allowing you to get the cash you need fast. Approvals after this time cut-off will be processed and sent on the next business day.
5. Repay Based on Your Loan Agreement
Next, you can use your loan money to cover any unexpected costs or expenses that you need it for, ensuring you can keep your finances on track. Then, you'll simply have to repay your loan based on your loan agreement. Depending on your terms and pay period, this is usually between 1-4 weeks. Make sure you have the cash on hand on your due date, and we'll withdraw it from your account directly – it's just that easy!
Get A Payday Loan in San Diego, CA in Just A Few Minutes!
Thanks to our online application and approval process, it's never been easier to get payday loans in San Diego. So, don't wait. Get started right now and get the cash you need with a cash advance from Mypaydayloan.com.
Cash Advances | Get Rapid Cash | Payday Loan Requirements | Other Online Resources
See What Our Customers Say About Mypaydayloan.com