How to Get Quick Payday Loans Online in Houston, TX at Mypaydayloan.com
If you need cash fast for a payday loan in Houston, TX, Mypaydayloan.com is here to help. We offer quick payday loans with no credit checks in Houston and the rest of Texas. Not sure how to apply and get the cash you need for your unexpected expenses? Here's what you'll need to do. 
Meet Our Application Requirements
First, you'll need to make sure you're eligible to apply for a loan at Mypaydayloan.com. We make it easy for you to get the cash advances you need in Houston, TX. You'll need to meet the following qualifications:
You must be 18+ years of age and a legal US citizen
You must be employed and have a provable monthly income
You must have an open and active checking account that's in good standing with your bank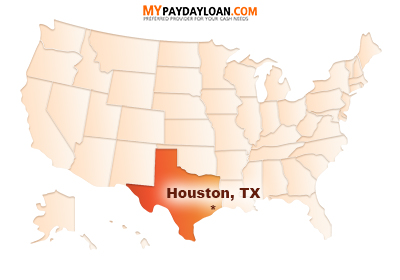 As long as you can meet these requirements and provide us with a bit of personal information, you're almost guaranteed to be preapproved for quick payday loans online in Houston, TX.
Fill Out Our Online Application
To get started and get access to the cash you need, just click here to begin the application process at Mypaydayloan.com. Our simple, 3-step application takes only a few minutes to fill out. And since it's completely online, you don't have to worry about driving to a payday loan office in Houston, waiting in line, or filling out confusing paperwork.
Get Approved & Accept Your Loan Offer
After you apply, one of our team members will review your application and ensure that you're a good candidate for a loan from Mypaydayloan.com. If you're approved, we'll contact you right away with the next steps. Take a look at your loan agreement and accept it, and you'll get your cash right away!
Get A Fast Cash Deposit into Your Bank Account
Once you've accepted and signed for your loan, you'll get your cash deposited directly into your checking account. If you submit your application by 10:50 A.M CDT (11:50 AM Eastern Time) you'll get your cash deposited into your account by 5:00 PM in your time zone.
Didn't meet the cut-off time? Don't worry. Your application will still be processed ASAP, and we'll deposit your funds on the next business day.
Cover Your Unexpected Expenses & Repay Your Loan
Once you've gotten your quick payday loan online in Houston, TX from Mypaydayloan.com, you can use it to cover all of your unexpected expenses. Then, you'll need to prepare to repay your loan by your next payday. Simply ensure you have enough cash in your account, and we'll automatically withdraw what you owe.
We Make It Easy to Get Quick Payday Loans Online in Houston, TX!
Don't wait. If you need fast cash in Houston, Mypaydayloan.com is here to help with online payday advances. Apply now, and make sure you get the money you need to cover emergency costs and unexpected expenses.