5 Reasons to  Choose Mypaydayloan.com for Payday Loans in Lafayette, LA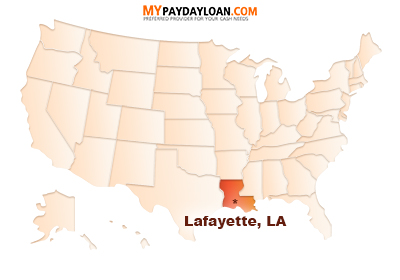 Looking to get payday loans in Lafayette, LA? Not sure which online lenders offer the best rates and service? At Mypaydayloan.com, we offer the best online-only payday loans with instant approval in Lafayette – and everywhere else in Louisiana! Read on and see why you should choose us.
1. Simple Application Requirements
It's easy to qualify for a payday loan from Mypaydayloan.com. All you need is:
1. Proof that you are 18+ years of age and a U.S. citizen2. An active and open checking account (not savings) into which your cash can be deposited 3. Proof of income and monthly employment. This determines how much you can borrow from us
As long as you meet these three requirements, you can get the cash you need from Mypaydayloan.com in less than one business day. If you have any questions about these requirements and whether or not you qualify, you can feel free to contact us for more information.
2. Apply from The Comfort of Your Own Home
Our online application is quick and easy, and you can complete it in your own home in just a few simple steps. Not only is this convenient, but it means that you don't have to spend time and money going to a physical payday loan office.
3. No Traditional Credit Check Required
Unlike some other payday lenders, we believe in second chances. That's why we don't require traditional credit checks for our payday loans in Lafayette, LA. Whether you have bad credit or no credit, you can qualify for a payday advance at Mypaydayloan.com.
4. Fast Cash Advance Deposits
If you complete and send in your payday loan application by 10:50 AM Central Time (11:50 AM Eastern Time, we can provide you with a same-day cash deposit. We'll send your funds to your bank and they'll be available by 5:00 PM Central Time.
Even if you don't make this cut-off time, you can still get the cash you need fast. If you're approved after 10:50 AM Central Time, you'll get your cash by the end of the next business day.
5. Clear, Transparent Payday Loan Rates & Fees
We always want you to make the right decisions for your financial future. That's why we make our rates and costs clear up-front. Click here to see our current rates. We provide industry-standard rates for cash loans, and as a member of the Online Lenders Alliance (OLA), we're dedicated to transparency in payday lending.
Apply for Payday Loans in Lafayette, LA & Get the Cash You Need
At Mypaydayloan.com, we make it easy for our customers to get the cash they need in Lafayette. So, don't wait. If you need cash to cover unexpected expenses, click here to apply today and get one of our fast, convenient payday loans in Lafayette, LA!