4 Reasons to Apply for a Payday Loan Advance Online in Los Angeles, CA


At Mypaydayloan.com, we offer fast, convenient, and reasonably-priced payday advances in Los Angeles, CA. If you need a payday loan in California, we are always here to help. Why apply for payday loans in Los Angeles CA with us instead of another online direct lender? Here are a few reasons.
Qualify for a Loan with No Credit Check
At Mypaydayloan.com, we do not require traditional credit checks to approve you for a loan. We don't even run credit checks on our applicants. As long as you meet our loan requirements, you're a good candidate for a loan. All you need is:
To be a US citizen at least 18 years of age
To be employed and have a verifiable monthly income
To have an open, active checking account into which your cash can be deposited.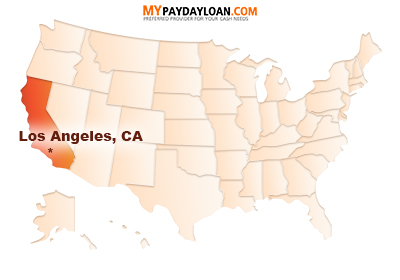 As long as you meet these three requirements, you will likely be preapproved for a payday loan from Mypaydayloan.com.
Avoid Teletrack Checks
Teletrack is often used by payday lenders to assess the risk of lending to a particular customer. This service is similar to a credit report from one of the "big three" credit bureaus.
However, Teletrack specializes in tracking information gathered from payday lenders, title lenders, rent-to-own stores, and other such installment loan companies. If you have negative marks on your Teletrack record because of missed payments to these lenders, they'll show up on your report.
But at Mypaydayloan.com, we don't use Teletrack to check our customer's financial history. We believe in second chances, so you can qualify for one of our payday loans even if you have missed payments from other lenders in the past.
No Faxing Required
Don't have access to a fax machine? Most people don't, which makes it a bit strange that so many online payday lenders require you to fax documents to complete your application process.
At Mypaydayloan.com, we do things differently. You can send photos or scans of your documents to us as part of the application process. Just attach your files to your application and send it off – it's just that simple.
Get Instant Approval and Fast Cash Deposits
We offer instant approval for qualified customers, and fast cash deposits. If your application is approved by 8:50 A.M Pacific Time (11:50 AM Eastern Time) Monday-Friday, we'll deposit your cash into your bank account by 5:00 PM in your time zone. We make it easy for you to get the cash you need – without the wait!
Apply for a Payday Advance Online in Los Angeles, CA now!
We serve all of California, including Los Angeles, Fresno, The Bay Area, Sacramento, and every other major city in the state. So, if you need a payday loan in Los Angeles, CA, Mypaydayloan.com is here to help. Click here to begin your application, and to get the cash you need to cover your expenses.