Cash Advance Online – Things to Look Out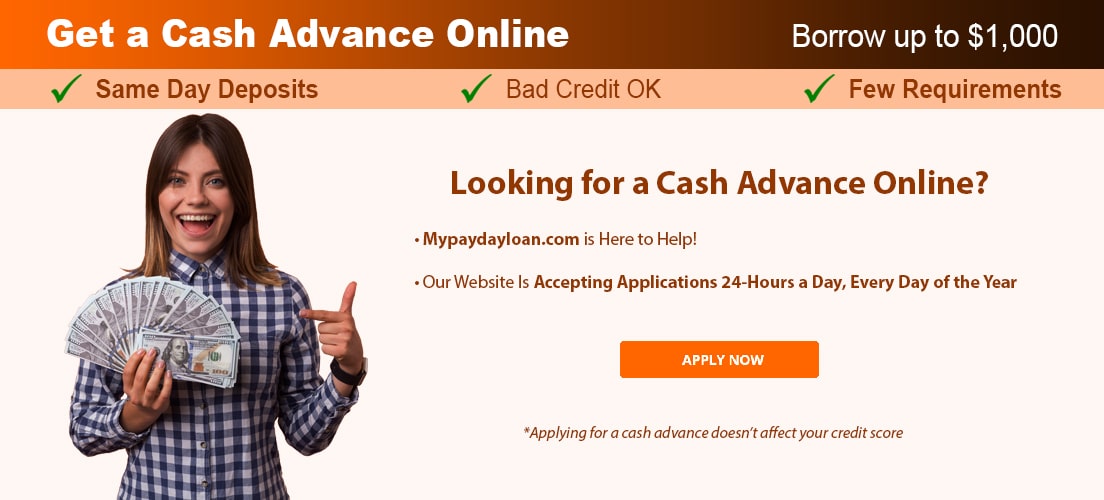 When you're in a bind and need some emergency cash, a fast cash advance from Mypaydayloan.com can be a lifesaver. However, before you take out this type of cash advance loan, it's important to understand all the details involved so that you can get the best rate and can access your emergency cash quickly. Let's take a look at these now.
1. Is there a cut-off time for same-day deposit? 
Yes. If you need cash immediately, make sure to understand the cut-off times for next-day and same-day deposits from all lenders and meet them to get your money as fast as possible.  
We have a cutoff time of 12:00 PM EST for same-day cash deposits. To get your cash by 5:00 pm, you must submit your application and be approved by the cutoff time. Learn more about same-day payday loans.  
If you submit your application after this time, we guarantee that you will receive a cash deposit on the next business day.  
Make sure to discuss these times with your lender in order to get your cash quickly.
2. Who is eligible to receive a payday loan? 
Each lender has its own eligibility requirements to offer payday loans online. Mypaydayloan.com requires that customers have the following:  
A checking account that is open and active. 

 

Proof of employment and verifiable income.

 

Proof of U.S citizenship and 18 years of age or older.

 
These requirements are necessary to be eligible for a payday loan. Learn more on our "requirements page".
3. What are my repayment options?
Some online cash advance providers may accept personal checks to pay off loans. However, this is not the best way to repay your cash advance. You will need to purchase stamps and envelopes, make a check and mail it to the post office.  
An ACH withdrawal is an easier and more reliable way to make a payment. This is basically the opposite of a direct deposit. The cash you owe to repay your advance will automatically be withdrawn from your checking accounts when it is due. This will ensure that you never forget to authorize a payment or write a check. Just make sure you have the cash to repay your cash advance in your account, and it will be withdrawn automatically.
These are the 3 things to remember when applying for a cash advance online 
When you're looking for a cash advance online, we recommend that you find a direct payday lender that offers fast payment with same-day and next-day funding, has minimal requirements and offers payment options like ACH withdrawal. 
Are you ready to get started?
We are here to assist you. Click here to start your application and receive the cash you need quickly.