Get Fast Payday Loans in San Francisco, CA


At Mypaydayloan.com, we're here to help you get the cash you need fast with payday loans in San Francisco, CA, Oakland, and the surrounding areas. We'll help you get the cash you need to cover unexpected and emergency expenses. Learn more about our fast payday loans in San Francisco, CA below, or click here to apply now.
Why Choose Us for Fast Payday Loans in San Francisco, CA?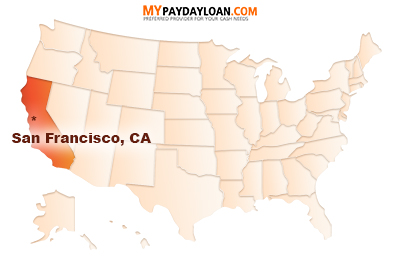 Wondering why Mypaydayloan.com is the best choice for fast payday loans in San Francisco? Here are just a few reasons you should pick us as your #1 payday loan provider.
Flexible loans of up to $1,000 – As a first-time user of our services, you can borrow between $200-$1,000 depending on your income. As you continue to borrow from us, you can increase your limit to up to $1,500, ensuring you always have the cash you need to cover unexpected or emergency expenses.
Same-day cash deposits available – If you complete your application and send it in by 8:50 AM Pacific time (11:50 AM Eastern time) you can get your cash deposited into your account on the same day you apply. Finished your application later? Don't worry – you'll still get your cash on the next available business day.
Save time & money compared to a physical loan office – Taking a trip to a loan officer can be inconvenient and cost you quite a bit of time and money, in some cases. In contrast, Mypaydayloan.com allows you to apply in just a few minutes online. You don't have to drive or take the bus or need waste time waiting in line or filling out a physical application.
Secured online application process – Our entire process is done using the best encryption to protect your personal information and data. In addition, Mypaydayloan.com is a member of the Online Lenders Alliance, which ensures that your information will never be sold or used without your consent. You can trust us to take great care of you and ensure the safety and protection of your data.
How Do I Get Started with a Fast Payday Loan in San Francisco, CA?
It's easy! Here's what you'll need to do.
Click here to check out our application requirements, and make sure you qualify for a loan
Apply on our website by clicking this link. Fill out our simple online application and submit it for approval.
After your application has been reviewed and accepted, you will be contacted to confirm your loan application. Sign in to get your money, and it will be deposited into your account ASAP
You can use your loan cash for whatever you need. On your agreed-upon withdrawal date (between 1-3 weeks, in most cases) you will need to repay your loan. Your payment will be withdrawn directly from your bank account, so make sure you have adequate cash on hand to repay
Get the Fast Payday Loans You Need in San Francisco Right Away!
If you need to get emergency cash in San Francisco, we can help you get the cash you need to cover your unexpected expenses – fast! Apply now and get your money in less than a single business day.
See What Our Customers Say About Mypaydayloan.com