How to Get Approved for Payday Loans in Baton Rouge, LA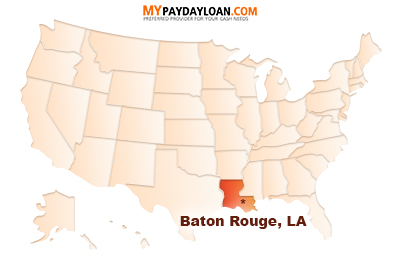 Interested in payday loans in Baton Rouge, LA? Wondering how to get the cash you need fast with Mypaydayloan.com? Here's a step-by-step guide on how to apply and get approved for a payday loan in Baton Rouge. Take a look and get the cash you need right away. Click here to learn more about our online application process.
1. Check Our Borrowing Requirements
First things first, you'll need to make sure that you are a good candidate for same-day online payday loans in Baton Rouge, LA. While we do not run credit checks at Mypaydayloan.com, we do have some basic requirements that you must meet to be approved:
● You must be 18+ years old and a U.S. citizen● You must currently be employed and/or have a provable monthly income● You must have a checking account for your cash deposits. A savings account will not work. Your account must be in good standing with your bank.
If you can meet these requirements, you can apply right away and get approved for payday loans in Baton Rouge, LA from Mypaydayloan.com.
Need rapid cash? Now offering 24/7 Instant Approvals!
2. Start Your Application
Once you've checked our application requirements and you've made sure that you're eligible for one of our online payday loans, you can just click here to begin your application. Filling out our application is a simple, 3-step process. We'll just require a few basic documents from you to confirm your identity and that you qualify for our payday loans online in Baton Rouge, LA.
3. Get Approved and Accept Your Payday Loan
Once you've completed your application with Mypaydayloan.com, you will be approved right away if you're a good candidate for a payday loan. One of our loan officers will contact you via email so that you can take a look at your loan agreement. Then, you'll simply sign your agreement to get your cash.
4. Have Your Cash Deposited into Your Bank Account
We offer same-day cash deposits in Baton Rouge, LA. If your application is completed and approved by 10:50 AM Central time (11:50 AM Eastern time), we will be able to deposit your cash into your bank account by 5:00 PM in your time zone.
If you don't meet this cut-off time, don't worry. Your cash will be deposited into your account by the end of the next business day. This ensures you always have access to the cash you need.
Apply for Payday Loans in Baton Rouge, LA Right Away & Get the Cash You Need
Mypaydayloan.com makes it easy for you to get access to the cash you need in Baton Rouge, and everywhere else in Louisiana. If you're ready to get started, just visit our website and click "APPLY." And if you have any questions you need to be answered before you apply, feel free to contact us for the help you need.