5 Reasons To Offer the Best Payday Loans Online in San Antonio, TX

If you're looking for payday loans completely online in San Antonio, TX, you're in the right place. Mypaydayloan.com offers the best payday loans online in Texas and all of America. Why should you choose us for your next emergency cash advance? Here are just a few reasons.
Industry-Leading Loan Rates
We take pride in offering reasonable rates for our cash loans online. Our finance charges are in line with industry standards, ensuring that you can get the money you need without overpaying. We also allow you to pay your loan back early and offer loan extensions and other services that can provide you with additional financial flexibility.
No Traditional Credit Check Required
Unlike some other payday lenders, we don't require you to undergo a credit check to qualify for a payday loan. We believe in second chances, so at Mypaydayloan.com, we do not require traditional credit verification for any of our loans. Whether you have bad credit or no credit, you can get the cash you need from us as long as you meet a few simple requirements!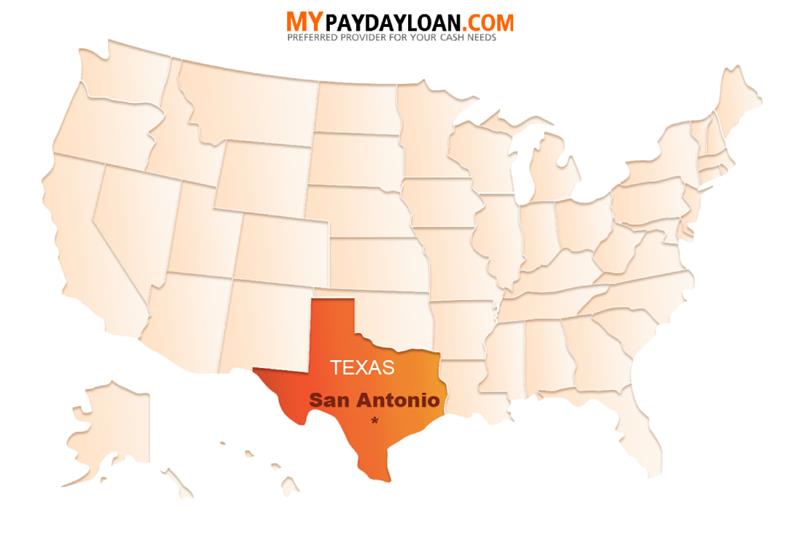 Simple Loan Application Requirements
If you want to get a payday loan completely online in San Antonio, TX from Mypaydayloan.com, you only need to meet three simple requirements. You must:
Be a legal US citizen at least 18 years of age
Be employed with a verifiable monthly income
Have a checking (not savings) account into which we can wire the cash from your payday loan
Provide us with proof of these three requirements and a bit more personal information, and you're nearly guaranteed to get a loan from Mypaydayloan.com
Mypaydayloan. comes as a Direct Lender & Part of the OLA
At Mypaydayloan.com, we're a direct lender. We handle the entire lending process from beginning to end – and we're also members of the Online Lenders Alliance, which means we're dedicated to excellence in online payday lending.
We Make It Easy to Get Cash Fast with Same-Day Deposits
If you complete your application and send it in before 11:50 AM Eastern Time, we can approve you and send your cash to your bank account by 5:00 PM in your time zone. Didn't meet the cut-off? You'll still get your cash fast – by the end of the next business day!
Apply Now for Payday Loans Completely Online in San Antonio, TX
If you need quick cash in San Antonio or anywhere else in Texas, completely online payday loans from Mypaydayloan.com are a great option. Click here to apply and get access to the money you need.